Looking for reliability, security, and access to a helpdesk, without monthly support fees?
For years, we've been offering our clients complete management and support packages through our CompuCARE services. Starting at just $30/month per user, these plans include unlimited remote support, allowing our clients to treat our outsourced team as their own in-house IT staff without considering the cost of troubleshooting a problem or making a change.
But we realize that not everyone needs unlimited support. You may be looking for the peace of mind that comes with knowing someone is watching your systems for problems behind the scenes, taking care of updates, and ready to help when you need it.
That's why we're introducing our new Baseline package, a streamlined offering that strips out the support fees and keeps everything else.

With CompuCARE Baseline, we're offering remote monitoring and management for just $5/month per user.
A small price to pay for peace of mind. Keep reading to find out more.
What is Remote Monitoring and Management?
CompuCARE Baseline includes everything that's in our CompuCARE Management offer, with a reduced hourly fee for remote support. That means automated services like Windows patch installations, managed anti-virus, 24/7 system health monitoring and daily safety checks, are all included.
What about support when you need it?
With CompuCARE Baseline, you also get instant access to support, with our always-on remote access and easy one-click support requests, at a reduced rate. Troubleshooting, helpdesk, system changes, and user management, our team will get to know your entire infrastructure and provide the same quality of support as if they were your own in-house department.
How does it compare?
If you're wondering how it compares to our Management plan, take a look at the graphic below. Taking a business with 10 users and 1 server as an example, you can get coverage under our Baseline plan for just $75/month!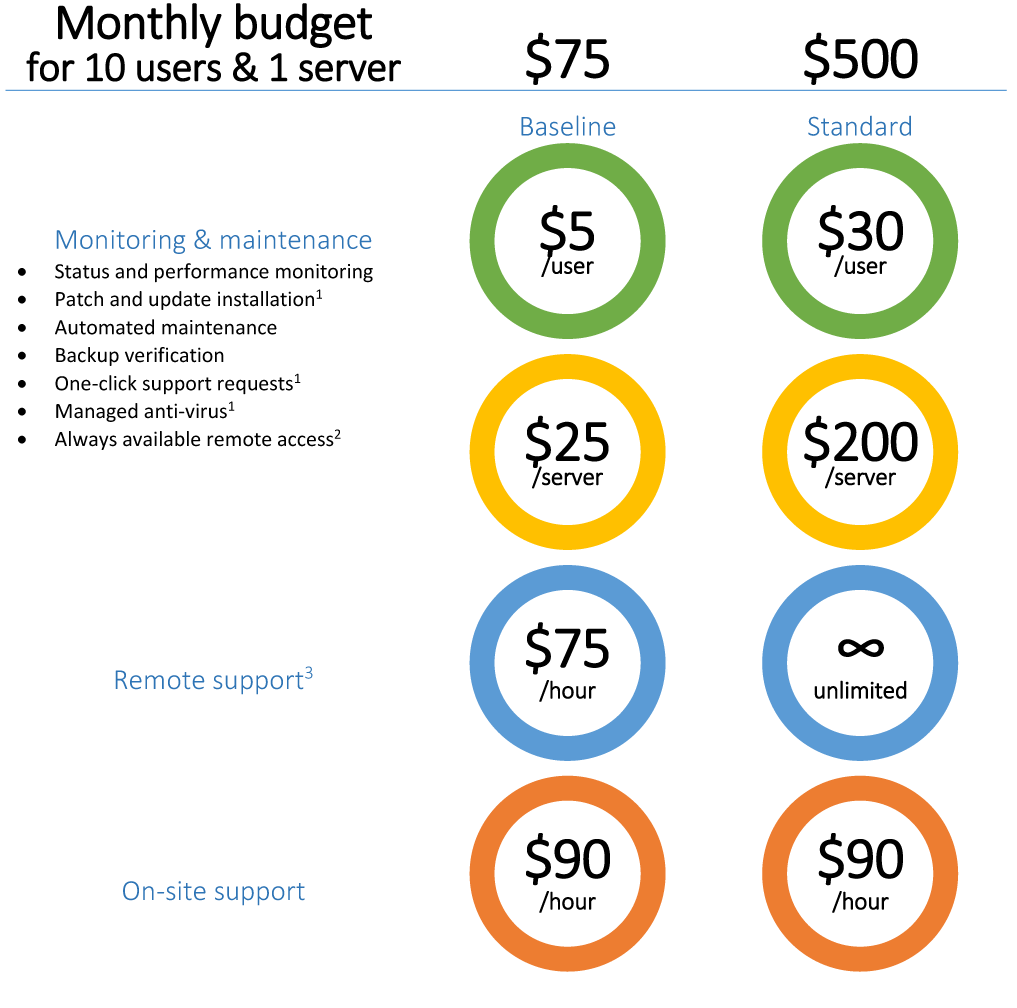 Interested?
Find out more about CompuCARE, and which offer is right for you.
---
1 Windows only
2 On OS X: Dependent on remote access to Windows server
3 General support related to the proper functioning of the hardware, operating system, and general office functions such as internet, email, and Office. Support for errors relating or exclusive to 3rd-party software packages and utilities may be billed at the hourly rate for on-site support.